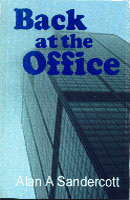 BACK AT THE OFFICE
by
Alan A Sandercott

Short story collection (3)

Published in 1999

ISBN 0-9684708-9-0



The Final Say - A company is plagued by problems with deceitful employees as it attempts to computerize its operations.


Keep 'Em Working, Keep 'Em Happy - A new company manager causes resentment and disruption among the staff with his unwelcome management style.


Ms. Santa - An unhappy car salesman has a brief affair with Ms. Santa at a their Christmas party and later learns an enlightening truth.