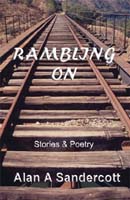 RAMBLING ON
by
Alan A Sandercott

Short story collection (13)

Published in 2005

ISBN 0-9685413-4-8


Strange Visitors - Unwelcome visitors invade homestead.


The Dentist's Waiting Room - An old man with no patience has to wait.


And About Time Too - Finally, spring almost returns.


Something In The Bush - The discovery of creatures in the forest.


Earliest Childhood memory - Relates first memory as child.


Summer Vacation - Vacation? What summer vacation? I'm retired.


January In My Area - Coping with British Columbia winters.


Growing Pains - A haunting memory of a boy's adolecence.


The Good, The Bad, & The Tasty - Living with Flatulence in public.


Just A Walk In The Park - Diary of fishing trip to Tweedsmuir Park.


The Final Nine - A not so memoral round of golf.


Viking Influence - 1000 year-old Viking Experience still here.


A Night In The Bush - Father and son lost in the bush overnight.